There's much talk about automation and digitization, but what's the reality? Is the Czech Republic an "assembly shop," or are we leading progress? What about the other countries of Central and Eastern Europe? Do we underestimate them? Slavoj Musílek, a Central European Automation Holding board member, shared his experience with us.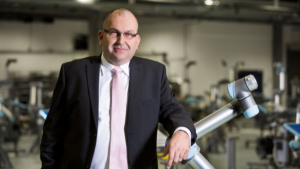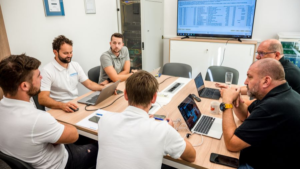 The name "Slavoj Musílek" is strongly associated with automation. In recent years, it has seemed that he has disappeared from the scene, but the opposite is true. After several years of successful work in Central and Eastern Europe, establishing collaborative robotics as a common standard, he embarked on an ambitious holding company that comprehensively addresses the issue of industrial automation and develops it through mutual synergies between different companies.
Most of our readers probably know you from your time at Universal Robots. What led you to the automation area?
In 1993, I graduated in technical cybernetics. However, I fled to IT because the business was snorting. Until 2011, I was in various roles in the IT world, which was a huge adventure. And then, I went back to the roots of automation. First to Rockwell Automation, later to Universal Robots (UR). The UR brand, including myself, was practically unknown in our region. And in the first moment, the UR robots excited me with their design, and I thought this was something like Apple for robots. However, at first glance, I was very interested in the company's entire vision, strategy, and excellent internal culture, so we quickly agreed with the company's CEO at the time. I left my "comfortable chair" and joined the team as the first employee of Universal Robots in our region. My responsibility was to completely build up the business in Central and Eastern Europe, which succeeded. It was an incredible journey; we built a great team of people, made a well-functioning partner structure, and created a dominant position in the collaborative robotics market, even though other manufacturers have begun to establish themselves in this area… However, the five and a half years have been a tremendous experience and, at the same time, a period of tough work. A new challenge allowed me to build and run the Central European Automation Holding, backed by a substantial investment fund, Oriens Investment Management, which manages many automation companies in Europe as a holding company.
You've established a brand-new market under Universal Robots. What did you take from promoting collaborative robotics?
It's not impossible at all. Universal Robots was the first company to promote collaborative robotics at a global level. So yes, we have created a whole new market. We have had to break down myths and set up in people's minds that robotics is expensive, has a long ROI, requires costly specialists, and can only be afforded by automotive or large companies. The team of people I've put together is doing an excellent job right now, and the cobots already have a bright spot on the market, but we're still fighting the barriers in people's heads today. Collaborative robotics turn clichés upside down, delivering quick returns and high efficiency and flexibility. UR offered a simple control that any worker with basic technical knowledge could handle. Our claim was the 'democratization of robotics,' making it accessible to everyone; it mainly benefits small and medium-sized enterprises. I had the opportunity to participate in something disruptive, collaborative robotics, or cobot, in 2015; it was essentially an unknown concept, and three years later, everybody talked about collaborative robotics, not just industry specialists, but you heard about it on the radio, on television, in the media.
How crucial was it that cobots were considerably cheaper than industrial robots?
The cost of a robot is not decisive; it's better to measure the cost of returns. The goal of the company is to buy something other than cheap technology. The company's purpose is to grow, produce more efficiently and better, concentrate on products with higher added value, and increase competitiveness; this is all about. And if robots offer the achievement of these goals, applications that use collaborative robots, or generally any other technology, their "purchase price" is not the parameter that should determine.
Do you have the impression that, since you joined the UR, the industry has changed? Has the perception of automation shifted them?
I think so. Seven or eight years ago, businesses were asking whether to automate. It's passe today. Today, no one is asking "if" but "how." It is clear, not just in large companies but in companies of all sizes, that automation is a must. The current and future shortages of people are being addressed. We need more flexible production and adapt production capacities quickly and flexibly to demand. There are periods when you need to produce for three shifts and when work is significantly less. Covid showed our dependence on supply chains. Every business today must be able to respond quickly to the current situation, and automation offers solutions.
If I have a business and I want to automate it more. How do you help me rethink processes and measure their return?
We need to start by auditing the current situation and considering the objectives. For some, the aim is to eliminate indirect costs; for many companies, it is to increase production capacity or maintain a consistent production quality; for others, it may be the flexibility of production processes. Once I have identified a critical issue and know what I want to do with automation, I can calculate the benefits. But there needs to be a general formula for that. I am fundamentally opposed to quantifying the advantage as the cost savings per worker a robot replaces.
For one thing, the real benefits of automation are elsewhere; the payoffs saved are a minority. Second, I didn't see a customer who would have eliminated employees by investing in automation. Robots don't make people lose their jobs.
Yet it is presented so often. What is your experience with this?
For me, the critical aspect is the exploitation of human potential. Although this is often downgraded, the Czech Republic is not an "assembly shop." Yes, now, many manufacturing companies are still using the hands of their employees first, and they should be using their heads more. The machine should do a job that a machine can do… People should engage in activities that fully exploit their potential. That we have a lack of qualified people is another cliché. Not everyone needs to have a college. But everyone can grow and learn; only the employer must give them an opportunity. Businesses that did this retained their employees and offered them better jobs, with higher value-added, for better money.
Let's go to your current engagement. How would you briefly introduce CEAH? What is your goal?
Central European Automation Holding is a unique project in our region. It aims to create a group of companies that are key players in automation solutions, and together it will form the most influential group in Central and Eastern Europe. Currently, the CEAH brings together three companies, one in the Czech Republic and two in Hungary. We have a company Automa CZ with thirty years of history and an excellent reputation; the focus is the design and construction of automation lines, single-purpose machines, and robotic station machines for customers in the Czech Republic and throughout Europe. In Hungary, the companies are Antra ID and Auware Engineering. Antra ID mainly provides solutions to control and automate intralogistics processes. Auware Engineering primarily deals with high-value-added services, often significantly overlapping with IT. Our goal is to maximize the complementarity between the portfolios and businesses' capabilities, capacities, and experience, enabling us to provide our customers with access to cutting-edge expertise, experience, and solutions that cover a wide range of needs. We've started this kind of collaboration between our businesses quickly and efficiently, so we're successfully acquiring and executing orders that only some of these businesses could have achieved independently. Long-term customers of our companies also see and appreciate the synergy, so this is the right way to go.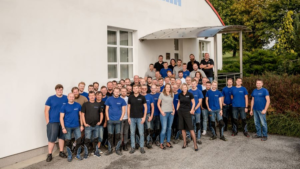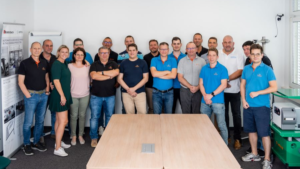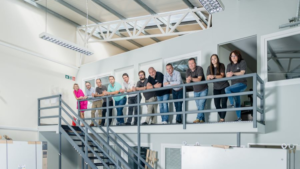 Do you have any key instructions for acquisitions? Which areas do you still want to penetrate?
There are three perspectives on this. The first is to evaluate the portfolio of services and products and how it fits and enriches the concept. The second view is financial, what the return on the investment will be, and how the group's value will rise. And third, we're interested in a business where we can get 100 percent.
What is the interest of companies in entering foreign capital? Is the current market uncertainty in acquisitions helping you?
I can't give a clear answer. Suppliers are already out of Covid, and healthy players are coming. Specifically, today our businesses are dealing with projects for 2024, we have the total capacity booked, and it works great. But, of course, there are businesses in our industry that, for whatever reason, are failing more than they want or whose owners are considering "leaving the train."
So, looking to the future, you're optimistic?
I'm a life optimist. My approach is quite simple: the only fair thing in the market is the market itself. It is the same for all the businesses that operate on it; they all must face the same problems. When we lack components for the machine because our suppliers cannot deliver them on time for any reason, our competitors are in the same situation. When customers ask us for unrealistic deadlines or their ideas about price do not meet our expectations, our competitors are in the same position. So, we must be more intelligent, faster, and more capable than the others, and then we win. In this, the market is fair and plays into the hands of those who put their hearts and minds into the job.
But what if the market is affected by factors that are not entirely natural? What about the political pressures on electromobility and the like?
I have a very clear opinion on this. But I can also look at it in a purely professional way. From the market's point of view, this is the direction in which the world moves, regardless of our opinion, whether we want it or not. We are suppliers of technology, solutions, and services to our customers. Even in this situation, we have much to offer; of course, this dramatic change represents a massive opportunity for our customers and us. We are in the same boat as our customers and can help them to make this transformation successful. We can either complain or find an opportunity for innovation in this. We are following the second option.
You have experience in the markets of Central and Eastern Europe. Do we, as the Czechs, differ in our approach to automation in manufacturing compared to Hungary, Slovakia, and other countries in the region?
Yes, every market is a bit different. The Czech and Slovak markets are very close because of the decades in the normal state and the long and powerful industrial tradition. The Polish market is different, more extensive, and more diversified in terms of the focus and the size of the companies. However, I have seen great emphasis in recent years on modernization, automation, and related investments, which may significantly boost the competitive advantage of Polish industrial companies in the future, at least on a European scale. Hungary, as I have perceived it for a long time, is a relatively complex market, as if it were slower or hesitant. From the perspective of automation and innovation, Slovenia, a small country but very focused on high-added value, is a promising country. For example, Romania or, for example, the Baltic States are underestimated by many people out of ignorance. Everywhere, there is massive investment in automation and innovation.
Is there any area of automation where you see great potential in the future?
It works with data. Collecting and evaluating data, using data for online and automated management, and optimizing complex processes in production and logistics will help with predictability, the efficiency of the entire process, and natural predictive control. For example, when Covid suddenly stopped running routine operations such as stable and predictable supplies of materials and parts, businesses couldn't respond to it; it was like Kaiser and Lábuse famously: The gummers were waiting to come, and when the gummers didn't come, the sauce poured out. Working with data can bring intelligence and much greater efficiency, which is a big theme for the future. Of course, there's also machine vision, artificial intelligence, virtual reality usage, digital twin, 5G network, control system virtualization, and other topics.
Working with data is the main idea of Industry 4.0, which is a ten-year-old thing. Why doesn't it work long ago?
That's a normal development. Only now do most businesses have an infrastructure platform, start collecting data, and learn how to work with it.
Are Czech companies taking a strategic approach to automation and digitization?
Manufacturing companies know very well where the shoe is pushing them. They know where to streamline production or processes and increase flexibility, perhaps by automation. They may need help assessing each action's relevance, continuity, or feasibility. Our customers have a good idea of what production sites to deal with, and we help them to design the process; that is our role. We'll suggest where they get the most benefits to prevent problems. Apart from the biggest ones, manufacturing companies can only be expected to have top professionals in their ranks in some possible areas related to automation and digitization. But when I talk to our customers, I see that they can name a problem, and they're reaching out to specialists to solve it.
Do you have any more acquisitions on your desk? Can you give a general indication of which segments you will target soon?
We are talking about two directions: firstly, completing or expanding the portfolio of solutions, services, capabilities, and capacities in existing business areas… I see a second potential for growth in possible acquisitions of companies focused on industrial segments and customer types that our existing companies should have primarily targeted.
But it's certainly not surprising that the automation and digitization market is expanding into a wide range of exciting industries and areas, and we want to be there.